These drawings are part of an ongoing series of works isolating inanimate elements from a 1944 LIFE magazine photo essay by photographer George Skadding on the so-called 'inner workings' of the FBI. These highly composed images show women and men engaged in the work of decoding, filing, wiretapping, dusting for fingerprints, searching and arresting suspects. The drawings in this set present inanimate objects without the people operating them; piles of papers being filed in a massive FBI storage unit and a 1940s mimeograph machine. The drawings focus on the inert objects and pages of type that affected and consumed the daily lives of typists, agents, file clerks, prosecutors and defendants during the 1940s and beyond.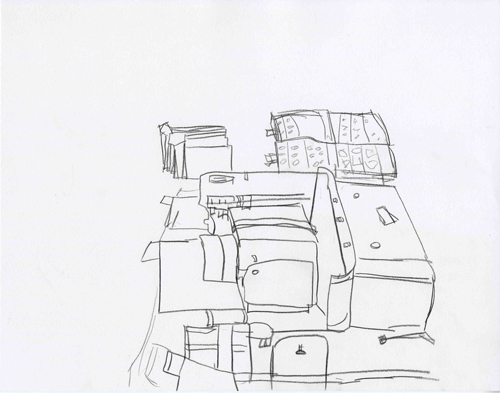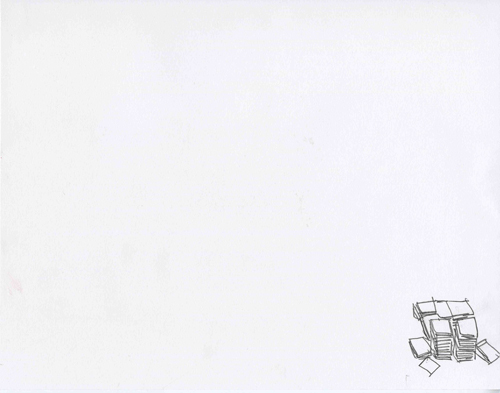 Drawings from Overall view (2009-10, graphite on paper) / Jenny Perlin



---
ABOUT THE ARTIST
Jenny Perlin's practice in 16mm film, video, and drawing works with and against the documentary tradition, incorporating innovative stylistic techniques to emphasize issues of truth, misunderstanding, and personal history. Each aspect of her practice looks closely at the ways in which social machinations are reflected in the smallest elements of daily life. Whether it is copying a receipt from Wal-Mart, a headline from Reuters, unpacking 1950s FBI archives, or filming documentary-style interviews at the corner store, her interest is in the ways in which the sweeping statements of history affect specific details of human experience. Perlin lives and works in Brooklyn, New York.
---
INCITE Journal of Experimental Media
Counter-Archive