From 1998-2000, I ran Flicker in Chapel Hill, North Carolina. My curriculum vitae says that I was "Director" of the Flicker Film Festival, but that's a deceptive title, since it gives the impression that there was some kind of organization to direct. Flicker was always a one-person show (under my stewardship and that of the other directors) with others stepping up in smaller roles (helping with flyering, making cookies for the shows, storing equipment, etc.) usually on a short-term and always informal basis. Even the graphic design was the sole province of the Festival Director, most notably in the form of the short zine that served as the program guide for each show.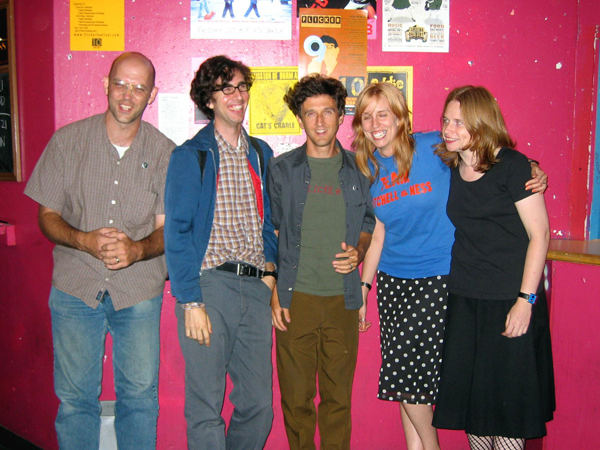 Flicker honchos Jim Haverkamp, Roger Beebe, Norwood Cheek, Nicole Triche, and Jen Ashlock at the 10th Anniversary Show / Roger Beebe
Flicker was a bimonthly festival explicitly dedicated to primarily local small-gauge filmmaking, with, at its origin at least, a strong preference for Super 8. That commitment to Super 8 was both an aesthetic investment—the beauty of the swimming grain, the punchiness of Kodachrome reds and yellows when projected from the camera original—as well as a political one—the ideology that anyone can make a film and that everyone should. The political dimension of Flicker's mission was never foregrounded as strongly as it might have been in a more punk-oriented subculture—Flicker was formed around and within an indie rock scene and shared some of the same soft-pedaled politics as that music—so the politics never took the form of polemic or diatribe (that is, the politics of Flicker were never articulated as a politics). Instead, the politics came, for example, as part of an emphasis on the pleasure of direct communication or of self-expression. Rather than a Marxist critique of the economy of the Hollywood mode of production, Flicker offered a more simple demystification of the process (and costs) of filmmaking and pointed to another way of making and exhibiting films.

Flicker was, from the outset, devoted to film (rather than video) as a "capture medium" and mode of presentation. The only explicit curatorial rules that Flicker articulated were that work had to be 15 minutes or less and that it had to be shot on film. Flicker's founder, Norwood Cheek, made clear his love for celluloid (and his distaste for video) in his brief introductory comments in the program to the second Flicker (the first one to actually have a program): "Put down your video camera, buy some Super 8 film, and capture your family, friends, etc. on this beautiful celluloid. Come up with a story, or compose and juxtapose images that surround you, send the film to be processed, and come back on January to show us the light you've captured." While work shot on film but transferred to video was also screened at Flicker, in the early days the preponderance of work was always shown on celluloid. Cheek initially rented and later purchased a video projector from the owner of the Local 506, a rock club that was Flicker's first home, but there was always a clear if tacit preference for projecting prints (or in the case of Super 8, projecting camera originals).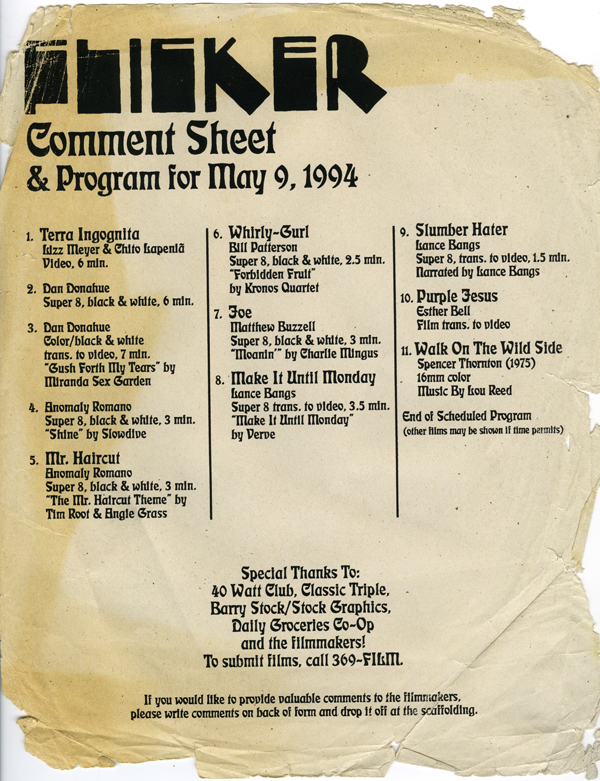 Screening ephemera from Flicker Athens / Lance Bangs

HISTORY
The idea for Flicker in Chapel Hill was initially born from a trip that Cheek made to Athens, Georgia in the early-90s. There he discovered a monthly screening series, also called Flicker that was being run by Angie Grass. The history of Flicker in Athens is worthy of an essay of its own, but in brief, it was started in 1991 by Michael Lachowski of the band Pylon (Lachowski was also an art student at the University of Georgia at the time) as a place for his film production class to present their work. As it grew, Lance Bangs joined Lachowski in soliciting work from local filmmakers, and Flicker quickly transformed into a more open forum, with monthly screenings at the 40 Watt Club, the center of the Athens music scene. The running of the festival was handed from person to person, with Grass, who (with Jennifer Williams) inherited Flicker from Lachowski, remaining centrally involved over the years. It later morphed into a mobile screening series called the Flicker Film Society that presented classic films at venues all around Athens before finally morphing into the Flicker Theatre and Bar, a proper microcinema space that continued to present repertory films and occasional programs of more recent work. In 2007, Grass finally handed over ownership of the Flicker Theatre and Bar to a new group of people, who as of this writing seem mostly to be focusing on presenting live music, with only a few nights consecrated to presenting older cult features on DVD, but the name remains as a vestige of the festival that once was.

After Cheek's trip (or pilgrimage?) to Athens, he returned to Chapel Hill and began holding a bimonthly screening of local small-gauge films at Local 506 on Franklin Street, the main college strip that runs along the edge of the University of North Carolina-Chapel Hill campus. The initial festival screening was held on September 1, 1994, and the screenings continued every two months (with a longer break for the summer) until the fall of 2010. As the date of the first screening might indicate—especially when coupled with the summer recess—the festival was largely reliant from the outset on students from UNC as both audience and artists. Elin o'Hara slavick, then a newly minted Assistant Professor of Art at UNC-Chapel Hill, was among the filmmakers featured at that first Flicker. However, and somewhat atypically for the festival, that first Flicker also included solicitations from a few UNC grads who had already moved away to New York or Los Angeles—Phil Morrison (who later directed the feature film Junebug [2005]), Peyton Reed (who has directed a string of Hollywood features including Bring It On [2000], Down with Love [2003], and The Break-Up [2006]) and John Schultz (who directed the NC-based indie Bandwagon [1996] before moving on to Hollywood features including Like Mike [2002] and The Honeymooners [2005]). After that first Flicker, Cheek noted that local filmmakers began coming out of the woodwork, tracking him down with shorts on Super 8 or 16mm that they hoped to show at an upcoming screening. Cheek also consistently added to the ranks of local filmmakers by teaching biannual Super 8 courses at the Carrboro Arts Center, which produced regular crops of 20 new local cineastes.

In addition to drawing on the local universities (with Duke and North Carolina State later providing a smaller trickle of filmmakers through the Flicker pipeline), Flicker had deep roots in the local music scene. 1994 was the heyday of the Chapel Hill indie rock scene, with bands like Superchunk, Polvo, Archers of Loaf, the Squirrel Nut Zippers, and others enjoying widespread renown on college radio (with some, like SNZ and Ben Folds Five going on to wider circulation on mainstream radio and MTV). Local record labels like Merge and Mammoth served as additional "youth magnets," drawing 20- and 30-somethings to the area even if they didn't have an immediate connection to the university. Not only did many of the local filmmakers cross-pollinate with these bands by shooting music videos for them—Cheek's Chapel Hill: Young Rock VHS compilation remains the defining document of that era—but many of the musicians also dabbled in film. Cheek himself was a member of the popular local band Sex Police; the first few Flickers featured films by Tom Maxwell and Jimbo Mathus of the Squirrel Nut Zippers, John Plymale also from Sex Police, and drummer Rob Koegler, who kept the beat for many notable Chapel Hill bands over the years. Further, Mammoth actually purchased the Super 8 projector that Flicker used for years as an informal grant to Cheek partially to thank him for his music videos for their artists. (The 16mm projector Cheek used for the festival was discovered abandoned in the derelict school building where Cheek had attended fifth and sixth grades.)

Perhaps the most pivotal contribution that the rock scene made to Flicker, however, was the abundance of venues where the festival could take place. Flicker was never a proper microcinema, if by that we mean a permanent venue for presenting films. Instead, Flicker made use of rock clubs—first Local 506 and later the much bigger Cat's Cradle—as a home for its screenings. (The Cat's Cradle, while fully supportive of the festival, even keeping a screen in storage for Flicker shows and acquiring folding chairs that were rarely used otherwise, only offered up Sundays or Mondays for Flicker screenings and guarded the rest of the week for more profitable rock shows). Making use of such spaces took a tremendous financial pressure off the festival. Instead of having to pay rent to maintain its own space, Flicker was able to occupy these spaces for one night every two months and simply split the door with the club owners who paid most of their bills from rock shows and income from their bars.

Admission to Flicker was always only $3 (another part of its draw as well as a part of its politics, in my estimation), and by the time it moved to the larger Cat's Cradle, the door revenue (with Flicker taking home two-thirds of the collected admission) was enough that we were easily able to cover our minimal costs (occasional projector repair, printing program guides) with plenty left over. We might well have decided to pocket the extra money; instead Cheek initiated the Flicker Film Grant, giving $100 to a local filmmaker, typically someone presenting work at that night's festival. While $100 is hardly a life-changing sum, it covered the budget of most of the Super 8 films that Flicker screened. (I was the recipient of the ninth of these awards in 1998, just before taking the reins from Cheek). Jim Haverkamp, who took over from me in 2000, discontinued the Film Grant but initiated a different (and perhaps more direct) way of encouraging local filmmaking: the "hat trick film," where people could enter their names in one hat and their film ideas in another (written on tiny pieces of paper). A name and an idea were selected at random, and the winner was given a roll of film and a loaner camera to go out and shoot something based on the chosen idea. The hat trick film contributed to the Flicker ethos—the idea that anyone can make a film—and initiated a number of new filmmakers, including Jen Ashlock, who went on to run the festival after Haverkamp (from 2002-2004) before leaving for a sociology professorship in Baltimore at the College of Notre Dame.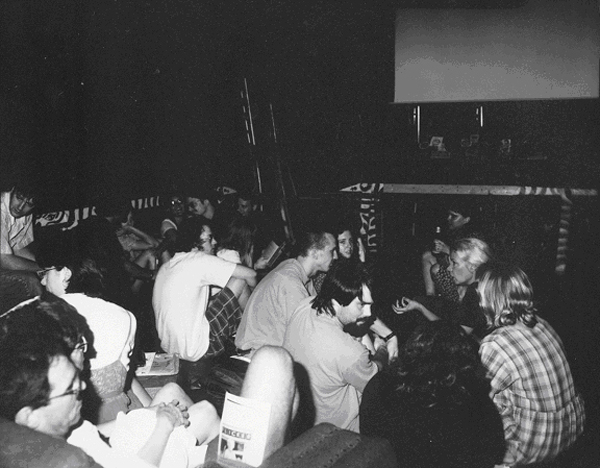 Local 506, the original Flicker location / Roger Beebe

FOCUS ON THE LOCAL
One of the great virtues of Flicker, but also one of its limitations, was (historically at least) its focus on the local. In my estimation, a big part of the draw of Flicker—which tended to have audiences of 100-200 people for each show during the time I ran it—was the fact that nearly all of the filmmakers were local, and many were staples of the music scene. This focus on the local fostered a sense of community that dovetailed with people's sense of Chapel Hill as the center of a certain indie rock scene, a place where something important was happening, and that created an additional excitement about these films.

The flip side of the focus on the local was that the festival and the community around it ended up being relatively insular with little sense of a connection to either other filmmaking communities around the country or to (avant-garde) film history. To the best of my knowledge, most Flicker films were not screened outside of Flicker. For many of the films, Flicker was both the first and last public screening that they received. People had very little sense that there were other festivals that might show their work (although there was a small but steady exchange with the Cucalorus festival in Wilmington, NC). Additionally, it's not clear that Flicker filmmakers understood the reason behind festival screenings (i.e., why they might want to screen their films for a roomful of strangers at a festival where they themselves might not even be bodily present) due at least in part to the locals-only focus of Flicker and the absence of any other framework.

This near-total blindness to the "festival circuit" did have one significant positive result: filmmakers weren't driven by a careerist desire to "make it big" by screening their films at some Big Deal Festival where they might attract interest from The Industry. (That above list of industry notables who screened at the first Flicker is deceptive in this regard. Very few of the Flicker filmmakers other than Cheek himself went on to careers in Hollywood). Instead, they showed their films primarily out of an ethos of communitarian sharing. While individuals' motivations were actually infinitely complex in a way I can't truly account for with that catch-all description of the Flicker ethos, I do think it's a fair assessment of the overriding ethos. Even if some filmmakers had a greater desire for the spotlight and definitely enjoyed the ego boost of a room filled with people silently taking in their films, that spotlight remained primarily a local one for almost everyone who screened there.

If the blindness to the outside world had a major positive side, it also had many negative ones. First, unlike our counterparts in the Chapel Hill music scene, we had no sense that there were other people in the world who were fighting the same fight or who shared our interests in a certain kind of no-budget, small-gauge filmmaking. Flicker felt like an oasis, and when people departed, they often assumed they'd have to leave the joys of that environment behind. (I remember more than one lamentation from longtime Flicker filmmakers or viewers as they left town for one reason or another).

Second, more related to the historical blindness than to the invisibility of our contemporaries, there was a lot of reinvention of the wheel. I'm of two minds about that. On one hand, it allows the re-inventor the excitement of that breakthrough moment—I've invented the wheel!—without the dampening realization that the wheel already exists and has been made by hundreds of others before. But there's also a great deal of waste in that reinvention (like maybe if someone told us the wheel already existed, then we could've moved on to inventing something else). It's also a shame that the audiences didn't know about the long history of like-minded makers or have a chance to see all of the work that might provide additional inspiration for them. We did make some small gestures toward correcting this—Cheek rented a pair of Lenny Lipton prints from Canyon Cinema during the end of his run; I followed suit by sneaking shorts by Norman McLaren and Alan Berliner into a few of my programs—but this was as far as the historical education ever went. For most Flicker-ers, a university screening of The Cabinet of Dr. Caligari (1920) was as close to avant-garde film history as they got.

Third, Flicker never became a home for visiting filmmakers in the way that most microcinemas typically are. I don't believe we hosted more than a few out-of-town visitors during my years at Flicker—Chris Jolly from Athens, Bo Webb from Wilmington—and those were always in the context of our regular bimonthly screenings. Visiting filmmakers did sometimes pass through town, usually through the universities. For most of the 90s, Duke regularly hosted six visitors each year as part of the Southern Circuit (with Berliner, Jem Cohen, Heather McAdams, and Joe Gibbons among the many guests). But for the unaffiliated road-showing filmmaker, we really were of little help. In fact, since leaving North Carolina, I've become a more frequent touring artist myself, thrice passing through the Research Triangle to do shows. Flicker was never able to help me set up a show in Chapel Hill, nor were they able to host a program of FLEX (the Florida Experimental Film/Video Festival) that I helped put together. The problem was never money—none of these shows required any guarantee of a payday. Space was part of the issue. Without its own venue, Flicker relied on Frank Heath, the owner of the Cat's Cradle, to set aside a date for our festival, but he was (understandably) reluctant to commit very far in advance, in case a bigger rock show were to come along. That made advance booking for visitors difficult. (Plus with only a Monday or sometimes Sunday night available, that further complicated the logistics of hosting someone on tour who has less flexibility about dates). But I think the bigger problem was ideological—hosting touring filmmakers was never part of the "culture" of Flicker. Surely no one organization can do all things (although many have tried), but it seems like it would be a logical extension of the mission of a small-gauge festival to reach out to others who shared similar interests. It was, finally, the narrow focus on the local that prevented such extra-local community-forming efforts.
SHARING THE WEALTH
If Flicker was largely immune from outside influence, we weren't entirely devoid of the impulse to spread Flicker outside of Chapel Hill. During the transition from Cheek's leadership to mine, we put together the first of what would eventually be two "Best of Flicker" VHS compilations. These tapes were available for rent at VisArt, the local indie video store that had locations scattered around the Research Triangle. We also sold copies at the festival and on our website. If memory serves, after we sold out the small run of tapes we'd made (I believe it was just a hundred or two), we ended up giving all of the filmmakers an even share of the proceeds. Flicker never was great at accounting, but I think the payout was $40 per filmmaker, after we recovered the money for making the tapes. (I'm fairly certain that there were no official contributors agreements, but we just said something like, "if we make money on this, we'll give it to you").

I also decided during my tenure that it might be worth taking Flicker on the road. I once heard Cheek referred to as "the Johnny Appleseed of Super 8 filmmaking," and I think the spirit of that moniker was behind my decision to travel with the films. It had started to seem strange to me that we should be uniquely fortunate to be able to enjoy Flicker in Chapel Hill and that other communities where such things might thrive didn't know that small-gauge filmmaking and locally based festivals existed. So, in November 1999, I put together a 10-day, 9-city tour of the Southeast with stops in Wilmington, Charleston, Beaufort, Savannah, Athens, Atlanta, Columbia, Asheville, and Winston-Salem. In 2003, Norwood followed suit with a 7-city West Coast tour that took him from Los Angeles to Seattle. I have heard since from a few people who attended those shows, and I was excited to learn that for at least few of them, it was a transformative experience. One filmmaker—Steve Daniels of Columbia, SC—actually shot a film and eventually made the pilgrimage to North Carolina to screen it at Flicker. Daniels continues to make films—including a winning Super 8 commercial that he'd shot for a competition sponsored by Converse—so in at least one case, the Flicker touring project worked precisely as I'd hoped.

Finally, and somewhat unintentionally, many Flickers actually sprang up in other cities. During Cheek's tenure, these other Flickers were often semi-mythical affairs that appeared and disappeared quickly. There was once supposedly a Flicker in Bordeaux, France, although it's not clear if they ever hosted a single screening. At the first drafting of this essay the website listed 11 Flickers worldwide, including ones in Las Vegas, Halifax, and Frankfurt, Germany, although I can't confirm how many of these truly existed or for how long. Nor can I confirm what relation they had to the practices and ethos of the Chapel Hill Flicker. The Flicker website, like these satellite festivals, has now disappeared into the electronic ethers. The only websites that appear to still exist are a memorial Flicker NYC page (noting its passing in 2011) and a barebones Wikipedia page with dead links to four of these fests.

The Flickers outside of Chapel Hill that seem to have lasted longest were started by Chapel Hill émigrés to fill their Flicker void. Cheek started this movement when he relocated to Los Angeles (partially following his heart, but also partially because much of the music video work that he was making demanded that he be out there). That Flicker continued to host irregular screenings — most notably the popular "Attack of the 50 Foot Reels" at the Egyptian Theater, where filmmakers shoot a single roll of film and have the results revealed to all on the night of the public screening — after nearly six years of hosting bimonthly shows, but has now gone dormant. Cory Ryan, another Flicker filmmaker whose work was featured on our second Best of Flicker tape, similarly started a Flicker in Austin, Texas in January 2001. Ryan handed off Flicker-Austin to the non-profit HBMG Foundation in 2007, but when that organization changed leadership shortly thereafter, the festival was discontinued. David Teague, another former NC Flicker-er moved to New York and started Flicker NYC in 2001. As noted above, that festival continued until 2011, when it commemorated its 10-year anniversary with a farewell show. In its later years, it had already scaled back to two annual screenings (from five); one of those was the showcase of new Super 8 and 16mm films while the other was an Attack of the 50 Foot Reels show. Likewise, James Parrish moved to Richmond, Virginia where he started a Flicker in 2002, but he slowly absorbed it into the larger Richmond Moving Image Co-op, which also hosts the James River Film Festival and many other events; the Flicker name is no longer in use there. Cheek and I both provided some degree of support for these other festivals, but most of them were able to run things without much help from us, and I thought it was important to allow them to develop autonomously, to represent their own local needs and interests. These were never meant to be franchises with a single "brand identity," but served as a comforting reminder that we (in Chapel Hill) were not alone. From my visits to the other Flickers over the years, I can say that there were pretty significant differences in audience and in presentation, but with something of the general DIY ethos and slightly scrappy feel intact from Flicker to Flicker.
10th Anniversary show at the Cat's Cradle, the later, bigger Flicker venue, in 2004 / Roger Beebe


POST MORTEM
Thinking about these other Flickers raises for me the most significant final question about Flicker in Chapel Hill: whether or not what we had there during the mid-to-late-90s was something that could be recreated in other times and places or whether we were at a unique historical juncture and a privileged geographical location that favored the flowering of such a thing. I know that the existence of Flickers outside of Chapel Hill seems to suggest that the conditions of possibility were not limited to that narrowly construed time and place (although the shuttering of many of those satellite Flickers since the first drafting of this essay does perhaps suggest that a temporal window may have closed).

But even if there were fairly successful attempts at transplanting Flicker elsewhere (and, to a lesser degree, "elsewhen"), there's something about the excitement of Flicker in Chapel Hill—I almost want to say the "magic" of it—that I haven't seen recreated anywhere else. I will admit to some nervousness about seeming like a nostalgic old-timer here, but regardless of what value one assigns to the transformation that took place in its final years, it indisputably did take place. Flicker in Chapel Hill changed pretty dramatically in the new millennium. Even during my tenure, I noticed that the ratio of film prints to video transfers had shifted, so that approximately half of the work would be screened on tape by the time of my departure. In the more recent Flicker shows, the number of works projected on celluloid dwindled even further, with some screenings no longer featuring a single print. Further, the focus on the local was largely swept aside, with entries increasingly coming from all over the country. In my day, we received the occasional entry from afar, but we would never have room for more than one or two of those in any show. Later, the proportions became inverted so that there were only a few locally originated films at every screening. (Despite these changes, Flicker did still make efforts to present locally made film on film, as, for example, when the festival's final director, Jessye McDowell, presented her own Attack of the 50 Foot Reels program, comprised exclusively of camera original Super 8 films by Triangle filmmakers). Average attendance at Flicker in Chapel Hill dropped below 100 toward the end, a significant dip from the era when I was around (although given the crowds I've seen almost everywhere else I've traveled, 60 or 75 people for a shorts screening is still a healthy turnout).

A lot has changed in the environment around Flicker that once sustained it, and this is partially what makes me suspect that a certain window of opportunity has closed. Chapel Hill's indie rock scene, which in the early-90s was a candidate for "the next Seattle" (a dubious title that few seemed to cherish) is no longer the youth mecca it once was. Merge Records, home to many significant bands of that era, persists, but most of their big acts now are national, like NYC's Magnetic Fields and Spoon from Austin, or even international, like Vancouver's Destroyer and Montreal's Arcade Fire. (Label founder Mac McCaughan's band Portastatic is the only one of the label's active high profile acts that is currently based in Chapel Hill). Mammoth Records, Flicker's early patron, met a different fate, being bought out by Disney in 1998 (a matter of great controversy among the local music scene at the time). The Chapel Hill indie rock scene may have ultimately been a victim of its own success. While it never became "the next Seattle," it did have a high enough profile to attract interest from The Industry, and that impacted not just the music scene, but the filmmaking scene as well (most notably, perhaps, in luring Cheek to Los Angeles, where he could more readily direct music videos for national acts).

But there are even bigger economic forces that may have closed the window on a festival like Flicker. It seems strange to think that the bursting of the tech bubble in the late-90s might have had a significant impact on a small-gauge film festival, but since many of the good jobs for college graduates in the area were in the high-tech companies that populated the Research Triangle, the disappearance of those jobs also resulted in the disappearance of many longtime Flicker regulars, as they went to bigger cities in search of new jobs.

Perhaps more immediately, the financial crisis at Eastman Kodak has had an impact on Flicker. While Kodak was always supportive (paying for an ad in the Flicker guide, occasionally giving us free film stock, etc.), Kodak's investment in keeping the presentation of films on film alive has been hard to determine at times, as when, for example, they discontinued Kodachrome 40 Super 8 film immediately on the heels of the worldwide celebration of its 40th Anniversary. With the discontinuation of Ektachrome at the end of 2012, only one Super 8 reversal stock (Tri-X black and white) still exists; since Super 8 print stocks were discontinued years ago, reversal is the only option for projection, which means barring a turn to more expensive recent European stocks like Wittner Chrome 200D, Super 8 projection is now limited to a single black-and-white stock. With the death of the stock that had been the center of the Flicker aesthetic, the festival certainly couldn't continue on exactly as it always had, with its slightly nostalgic investment in this home movie stock.

Even some genuinely good things that happened in Chapel Hill in the late-90s might have had a hand in ending a certain moment in the Flicker experiment. I'm thinking specifically about the Hi Mom! Film Festival, started in 1997 by a number of UNC students who all had some involvement with Flicker. That festival was a quirky annual event that showcased the work of experimental (as well as documentary and narrative) filmmakers from around the country and increasingly from around the world as well. (Hi Mom! appears to have ended its run with its 10th festival in July 2007.) They shared something of the Flicker ethos—a longtime motto of Hi Mom! was "no fat cats"—but without the focus on the local. I'm not quite sure about cause and effect here, but I wonder if the kind of isolation that nurtured Flicker was compromised by the knowledge of these other filmmakers outside of Chapel Hill. As I've said before, I believe the insularity of the Chapel Hill film scene was both a virtue and a shortcoming, but I do think it was one of the keys to what Flicker was when Cheek started the festival in 1994.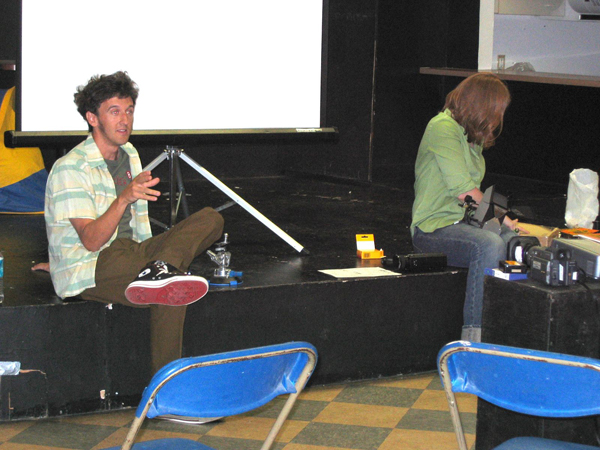 Flicker founder Norwood Cheek running a workshop at Flicker's 10th anniversary / Roger Beebe

For me, part of the magic of Flicker at its origin was in Cheek's personality. As emcee, he had a kind of infectious enthusiasm that I tried my best to emulate during my years in charge. But the success of the festival was surely the result of much more than that. Another part of the magic may have been that the festival was founded in the final window before everyone could edit video on their home computers and before the Internet revolution allowed everyone to distribute their films (or, I should more properly say, their videos) through YouTube or a hundred other online options. While the video revolution is great in many regards, and while I'd hardly rail against easy access to this new means of expression, the mode of apprehension of a YouTube video (consumed on a low-resolution postage stamp on one's home computer or in one's office) has none of the fragile preciousness, none of the "event-ness" of watching a unique Super 8 film unspool in a darkened room full of strangers and friends. Even the failures of film projection—scratched or burned prints, malfunctioning auto-load projectors, etc.—add to its charm. I can assert all this without nostalgia. For all that we gain in instant access and decreased barriers to international distribution with video, we indubitably leave these other qualities behind. (Cheek noted that one of the first Flickers featured a pair of honeymooners who showed a roll of unedited Super 8 footage that they had not seen themselves. While he said that it was totally charming, neither of us could imagine sitting through unedited honeymoon dailies on video.)

With all of these changes conspiring against Flicker—in technology, in consumption patterns, and in the music culture and economic environment that sustained the festival—it's hard to imagine that it would be possible to simply recreate it now. However, despite all of these signs that lead me to believe that Flicker might have been possible only in that moment and that place, over the years I have given some thought to trying to do just that—recreating some of the magic of Flicker in my current hometown of Gainesville, Florida. I've been doing programming for years here, most notably through FLEX, but I've rarely hosted screenings of local films other than the semester's end shows of student work. If something like Flicker is possible today, it might require a little more pushing on the part of the festival director, rather than the largely passive culling of submissions that was possible in my years running Flicker. Access to equipment should be easy—anyone can now purchase a camera on eBay—but it seems that education may be more of the issue. Cheek did much of this groundwork in the early years of Flicker with his classes at the Carrboro Arts Center, but once Flicker got rolling, it did seem to have a momentum of its own. I've had a few people ask what models of cameras or projectors to look for, where they can get film, where that film can be processed, etc., so I've created an info sheet with answers to most of those questions. (This is something of the spirit of the original Flicker guide that Norwood created, although later installments of that guide functioned more like a zine, rather than a strictly informational booklet, another change that I attribute to the Internet, where the ever-changing contact numbers can be more easily updated. Perhaps today even the idea of a printed zine is démodé; a blog might now be the thing to do.)

But the start-up effort for a Flicker renewal would need to go further, by actually putting cameras into people's hands, having rolls of film on hand to pass along to them (at cost), and making sure they know that they'll have a venue to show that film as soon as they've finished it. I suspect it would also require a greater "evangelical" effort in making the case for this clumsy little format that's difficult to display, easy to destroy, and hard to circulate. With the option of video so readily at people's fingertips, a new Flicker would need to strongly make the case for the uniqueness of the film experience and the experience of community that forms around public screenings.

Even with all of this additional effort, I'm not sure this experiment would work (or that it could ever quite gain the momentum that Flicker in Chapel Hill once had), but I'm hopeful that it might, even in an era when most cellphones can be used to make videos that can be uploaded and viewed by thousands almost instantaneously. I know that Flicker was both a nurturing and a transformative environment for many (myself included), and I'd hate to end on the pessimistic note that the window of opportunity for such a festival had definitively closed. If the slow food movement can get some traction in this same era where the trend has been for ever faster and ever cheaper access to nearly everything, then perhaps the "slow film" movement still has a chance too.
* This text was originally written in June 2008 for an as-yet-unpublished collection on microcinema by Andrea Grover and Ed Halter. It has been revised and updated to accompany INCITE's Exhibition Guide issue.
---
ABOUT THE AUTHOR
Roger Beebe is a professor of Film and Media Studies at the University of Florida. He has screened his films around the globe with recent solo shows at the Laboratorio Arte Alameda (Mexico City), Anthology Film Archives, and dozens of other venues, and has won numerous honors and awards. As a film programmer Beebe ran Flicker, a festival of small-gauge film in Chapel Hill, NC, from 1997-2000 and is currently Artistic Director of FLEX, the Florida Experimental Film Festival. In January 2014 he'll be joining the Art Department at Ohio State University.
---