Amarillo Ramp is a work of land art by Robert Smithson near Amarillo, Texas. The filmmaker Bill Brown and I have been working on a short film about Amarillo Ramp since 2012. The screen capture images in this article are from our film that is yet unfinished.

My first trip to Amarillo Ramp was in 2009, part of a surprise tour of cool places in West Texas. Road tripping through the Texas Panhandle, Bill and I stayed at an inn in Turkey, Texas, where the owner served us his special sweet potato pancakes for breakfast then played oldies on a honky-tonk piano. We got lost in the Palo Duro Canyon for hours, and rubbernecked the old neon signs along what's left of Route 66 in Amarillo. But the highlight of the trip was still a secret. I was told that we were going to meet our tour guide in the tallest building in Amarillo.

An elevator whisked us up to the penthouse office suite of the oil millionaire and notorious art prankster, Stanley Marsh III. Marsh's office was littered with paintings: Pollocks, Rothkos, and Stills leaning against the walls and stacked up on the floor. We were told later that the paintings were copies, done by the Amarillo artist and renowned bohemian Tommy Boberg.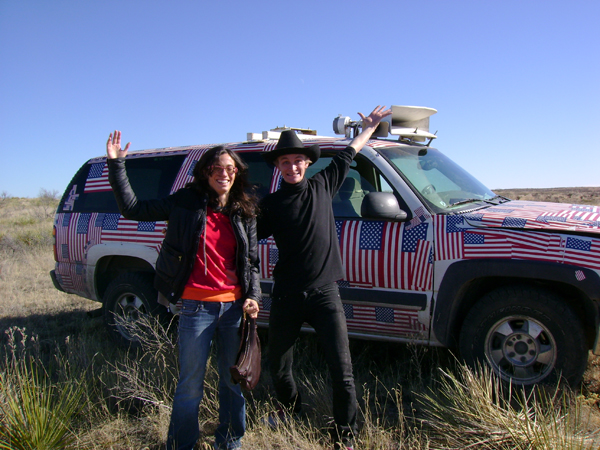 We met our tour guide, a skinny kid nicknamed "L.B.K." (Long Board Kid), who greeted us wearing his outlaw cowboy-punk outfit: black cowboy hat, black turtleneck, and black Levis. He introduced us to Stanley, then loaded us into a beat-up Marsh Enterprises SUV that was completely covered with American flag decals. L.B.K. drove us out to several public artworks commissioned by Marsh including the Cadillac Ranch, Floating Mesa, and eventually the Amarillo Ramp. As L.B.K. drove, he reminded us we were tourists as he played the part of a Texas art star, his cowboy hat on and off as he hooted and hollered. He handed us cans of spray paint so we could paint our own graffiti on the cars at Cadillac Ranch, and he told us a lot of stories, some that we believed.

Amarillo Ramp is far from any paved roads. The only access route is along a muddy and bumpy ranch road. The closer we got to the ramp, the more erratic L.B.K. drove. Was there some weird energy emanating from Smithson's art project, or was it just L.B.K.? After nearly crashing into a mesquite tree, we finally arrived at Amarillo Ramp. (Our experience with L.B.K. was not unique. Several people describe the same reckless driving and near-death experiences.)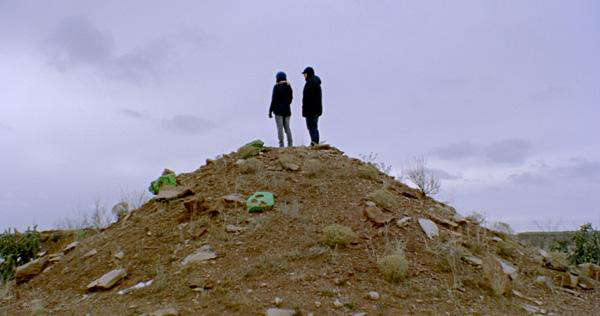 L.B.K. showed us the rocks on the Amarillo Ramp that he had painted neon green in a moment of artistic inspiration. For a time, Amarillo Ramp seemed to be where Marsh's young male assistants were sent as a kind of punishment. If you were late for work, you might be sent there with a chainsaw to cut down the shrubs defacing the ramp. For these kids growing up in Amarillo, the ramp became a sacred place. Even though Marsh grew less interested in the ramp over the years, the kids read the copies of the Avalanche journal with Smithson on the cover as they coveted this 1970s fragment of the New York art scene. But Marsh's own pseudo-Warhol Factory was its own crazy magic art world, so when L.B.K. put his stamp on the Ramp by painting the rocks green, no one protested.

This was our first visit. Two years later, we visited again in the dead of winter. Bill and I brought a Bolex to shoot a time-lapse movie of the sun rising over the ramp. The Amarillo Ramp is a curved, slowly rising, 396-foot long jetty. The ouroboros-inspired spiral originally rose to a height of 12 feet, forming an open circle 150 feet in diameter emerging clockwise from the ground. Smithson intended for the Ramp to sit at the edge of Tecovas Lake, an artificial lake formed by a dam in Tecovas Creek. Some years after construction, the dam broke, and successive droughts left the ramp high and dry.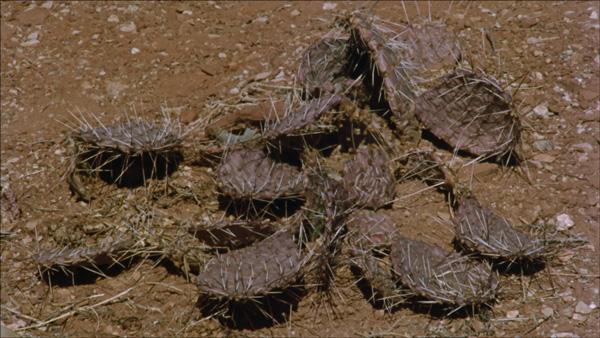 The only way to see Amarillo Ramp is with a guide. On our second trip, our tour guide was Jon Revett, a man Marsh nicknamed "Jon the Lion." Jon was also part of Marsh's circle of Amarillo Freaks. He knew a lot about the Amarillo Ramp and had a real affection for it. It was the ramp that inspired him to become an artist and he worked hard to maintain it for 20 years. Now a member of the art faculty at West Texas A&M University, Jon has established a grant called the BIG ART fund to do biannual maintenance trips with his students. On these trips, they cut down mesquite trees and remove the Cholla cactus growing persistently around the site. The country here is harsh. The scent of cow dung permeates the air. Sand and snowstorms blow through for days. The plants that grow here have the same qualities as the people: thorny with deep roots.

Amarillo Ramp was Smithson's final art project. While surveying the ramp from the air, Smithson's plane crashed right into the work site. His death reverberated across the art world. The work was finished posthumously according to Smithson's plans by his wife Nancy Holt, Richard Serra, and maybe even that irreverent art dealer who spray painted over Picasso's Guernica, Tony Shafrazi. Holt and Serra deny credit as collaborators even though they were both heavily involved and Serra sometimes drove the trucks and front loaders.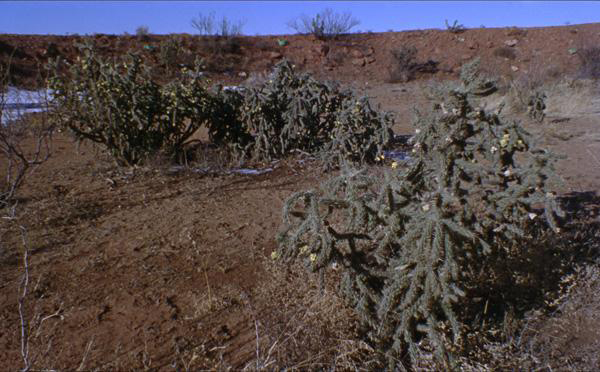 But the memory of Smithson's death casts shadows over the whole place. Marsh's young photographer and a pilot also died in the crash so the unfinished construction site quickly became a memorial for all who had lost their loved ones. Completing the ramp was as much an attempt to move on as it was an attempt at preserving memory. Perhaps Amarillo Ramp is the only place where Smithson's obsession with Science Fiction comes in contact with Horror because there is no way to visit the site without ghostly stories permeating the air.

But the ramp is as much about the future as the past. As you walk along the ramp, looking ahead, its edge lines up with the horizon and the landscape unravels like a narrative. I like to think of Amarillo Ramp as a never-ending structural film. The view from the ramp as you walk along it becomes the structure that segments the evolving landscape and time. When I tell Bill this, he says it doesn't hurt that the ramp itself looks like a piece of curled film.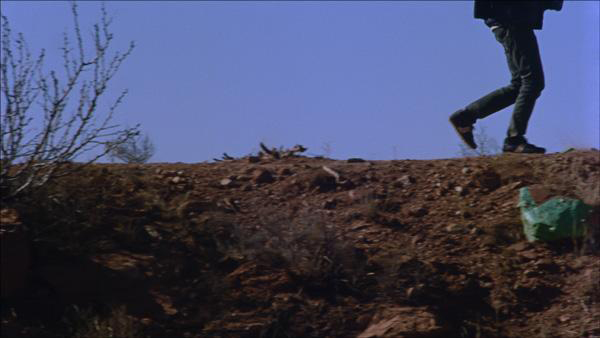 Like the Spiral Jetty (Smithson's most well-known land art site in the U.S.), at the end, the easiest way off is to retrace your steps. Maybe this was always Smithson's intention. In the copy of Avalanche that L.B.K. gave me, I read Smithson quoting Samuel Beckett: "Going nowhere, coming from nowhere…"1

Smithson's use of language conveys his interest in the idea of contradiction, so even though conversations about Smithson earthworks are bound up with this idea of the artist's intention, poring over his essays and interviews provides no definitive explanation. As time goes by, the ramp sinks deeper into the mud it once emerged from and only the efforts of a few people have managed to keep the site active. Yet the issues surrounding the site pose contemporary questions about land use and climate change. In this way the work continues to challenge and define us.

Before Holt passed away in 2014, she finished editing a 16mm film, The Making of Amarillo Ramp (2014). During that time, she had conversations with Jon about restoring the ramp. What follows are snippets from my interview with Jon the Lion. This interview is merely a spotlight on Smithson's darker and less visited earthwork through the personal lens of a guy who grew up alongside it.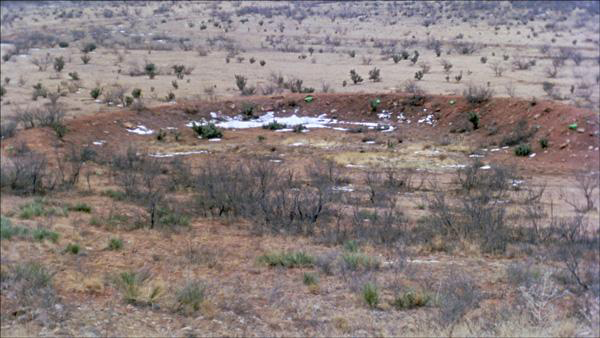 SG: Why do you think Amarillo Ramp is one of Smithson's lesser-known sites?
JR: I think it was almost forgotten due to the tragedy. When I spoke with Richard Serra, he mentioned that he saw it as sad thing, and reminded me I was lucky to see it without the association of Smithson's death. Also, the guide who first took me to Amarillo Ramp pointed out the crash site and mentioned that his best friend, who was the photographer on the plane, had died there. That was 20 years after the fact, and I could tell it still bothered him. I guess the sculpture had become a reminder of the untimely deaths of loved ones and it took time for that to pass.
SG: When did Nancy Holt become interested in Amarillo Ramp again?
JR: I first reached out to her in the late '90s, and while she was resistant at first, we slowly struck up a conversation that lasted 15 years. Her interest gained substantial momentum after my colleague and I sent her the first draft of a ramp article we had written (published in the catalog for the recent Smithson in Texas show at the Dallas Museum of Art). She became increasingly inquisitive and we stayed in regular contact throughout 2013, the 40th anniversary of the ramp. I heard the ramp movie was one of the last things she did before she passed last year.
 
SG: Can you reiterate for me how a conversation with Nancy Holt convinced you that Amarillo Ramp should be restored? What were her particular reasons?
JR: She told me that when Bob (as she called Smithson) found out the Spiral Jetty had been submerged in the Great Salt Lake, he said he would have raised it ten feet. She said entropy can be reset and told me never to eliminate future options for artworks. Then she explained the plans for the realization of Smithson's Floating Island project in 2005. This drove home the idea that art can out outlive the artist and take on its own life.
SG: Entropy tends towards disorder and is inevitable. Isn't entropy a part of Smithson's concept for his earthworks? If so, what would he make of the idea of restoration?
JR: I think he would be for it, as proven by his jetty comment. For Smithson, entropy was a way to animate his work. Entropy is a universal constant. Nothing can stop it (according to the Second Law of the Thermodynamics). However, objects going through entropy can be restored to a state close to their original state. This cycle of restoration-dilapidation creates a kind of perpetual motion, and keeps the work alive. His use of entropy actually proves that Smithson wanted his sculptures to live on. He thought of time on the geological scale, and his entropy motif is his attempt to make work last longer that the relatively small period of human existence.
 
SG: The Dia Art Foundation made the decision to restore and preserve Spiral Jetty even though it's an incredibly arduous project as it's constantly threatened by oil drilling operations as well as flooding. Is it possible that Smithson's project was in a way to show the ultimate futility of human intervention? And we are reminded of it every time one of his sites is "threatened"?  
JR: While it is possible, I don't think that Smithson was pessimistic. In fact, just the opposite. He utilized systems that could facilitate a sense of permanence. And the threatening reminders are just calls to action. Art allows humanity to transcend time, and we should preserve it. As an artist, I find it very reassuring that people have been doing what I do for 30,000 years. I think Smithson's work operates on this level. He is not just talking to us, but to future generations of us.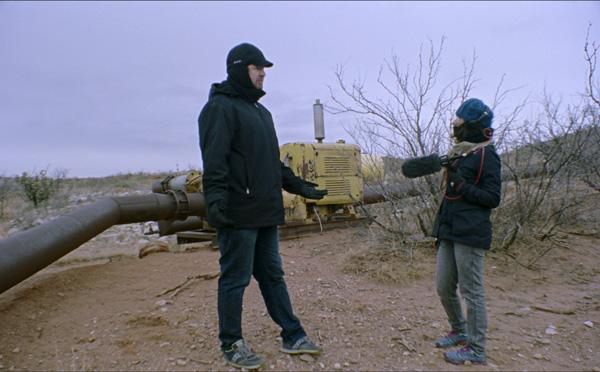 SG: How are the fracking activities on the ranch affecting the site?
JR: Actually, the fracking has been beneficial because the gas companies have to maintain a good portion of the roads leading to Amarillo Ramp. The earthquake controversy surrounding fracking may someday cause problems, but that remains to be seen. There are several new power lines that cut across the visible horizon that connect the nearby wind farms to the national power grid. While it does hinder the view, I think Smithson would have been okay with this. I read that when he learned an apartment complex was erected near one of his Non-Sites, it did not bother him. This leads me to believe his work is intended to gauge progress. To most people, the ramp is in the middle of nowhere, but the land here is becoming more profitable.
 
SG: Shouldn't the restoration of the site include the water dam around it?
JR: Not necessarily. When I saw the Spiral Jetty in 2010, the water was gone and the shoreline was 50 yards away. I doubt the Dia Foundation is going to attempt to raise the level of the Great Salt Lake. That is up to nature. I think the fluctuation of water levels at both sites becomes a very timely commentary on the fragility of shorelines and the societies that live close to them. In the case of Amarillo Ramp, the dam broke long ago and we have not had enough rain in recent years to fill the lake even if the dam was rebuilt. An easier solution would be to clear the brush around the Ramp and let the natural grasses grow. It would almost look like water, especially when the wind blew, and resemble the original aesthetic of the sculpture.
SG: Is that something you are planning to do?
JR: Unfortunately, there are no plans for Amarillo Ramp restoration at this time. The BIG ART fund only has enough money to pay for a few years of maintenance trips. I have been told that there is real interest in restoring it, but several hurdles would be jumped before that can happen.
 
SG: Do you think this site should live forever? Right now, what would happen if you stopped maintaining it?
JR: Of course I think Amarillo Ramp should live forever. I will never stop caring, but there is the possibility of losing access to the ramp. If that happened, I assume it would sit out there slowly eroding. It would take a while before it vanished completely. In that time, I would hope that some other young artist would come along, have their life changed, then spend the next few decades trying to preserve it. My goal is to secure a positive future for Amarillo Ramp by building a sustainable plan for public access.
---
ABOUT THE AUTHOR
Sabine Gruffat is a digital media artist and filmmaker living and working in North Carolina. Currently she is Assistant Professor of Art at the University of North Carolina – Chapel Hill. Gruffat's films and videos have screened at festivals worldwide. She has also produced digital media works for public spaces as well as interactive installations that have been shown in Chicago and New York. She recently produced a feature documentary with Bill Brown about the housing crisis in Spain, Speculation Nation (2014).
---