Touch My Body (Green Screen Version) / Oliver Laric
Oliver Laric is an artist living somewhere in Europe. He is also a co-founder of vvork.com. I first encountered Oliver's work in 2008, via his website, www.oliverlaric.com. For the last two years, I've felt like a far-off fan, continuing to check for new projects and view them by myself; a solitary IP address attending a private screening. Fittingly, Laric's cut and paste work seems to leave us alone, treading a vast terrain of digital isolation, at times, overcome with a permeating vagueness, feeling a long pause as a webpage slowly loads, or the awkward, interruptive wait of a half-loaded quicktime video. His recent video series, versions (2009, 2010), joins gathered text excerpts into a narrative analysis of modern iconoclasm.

I am grateful for the opportunity to have exchanged a few quick emails with Oliver over the span of two months. His responses, like many of his projects, are brief, poignant, and choppy.
* * *
PN: Much of your art finds a home online. To start, can you describe Still Available, your ongoing internet domain project?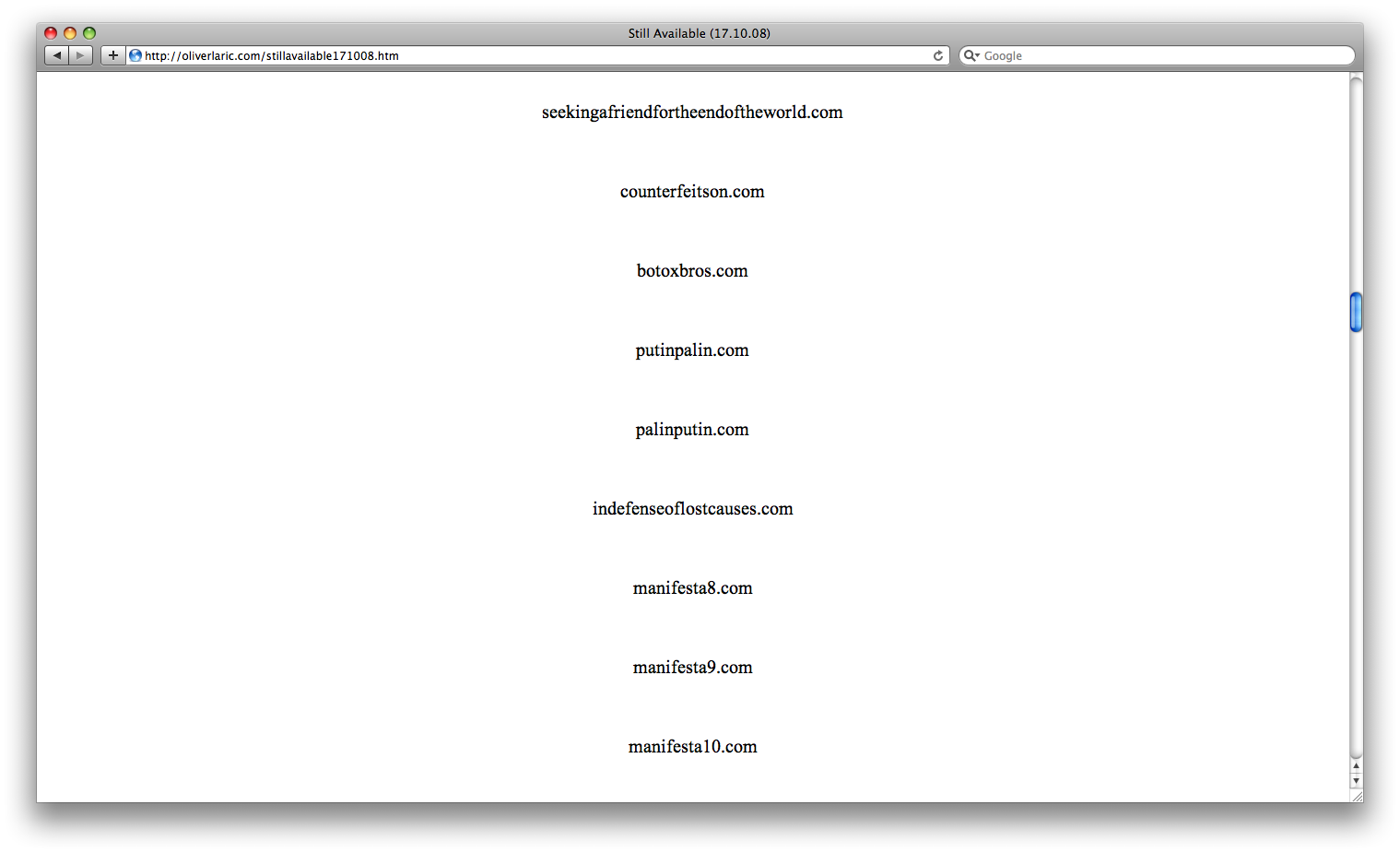 Screenshot from Still Available (17.03.10) / Oliver Laric
OL: At one point in the short history of the www, almost every letter combination was available. These letter combinations are unique and consequently some are financially valuable. Most of the prestigious virtual land has been colonized. There are some areas that have been overlooked and new territory is generated through current events and developments. these two types of land fascinate me most. I think almost 70 of the 300+ domains that I've listed have been bought so far; I'm assuming predominately by buyers unaware of my lists. They function as portrays of a moment.

PN: Is there further displacement and re-combination of these letter combinations? Do you present it offline as well as online?

OL: I've presented it on and offline, sometimes specific to opening dates. It was recently translated to Dutch for a literature magazine from the Netherlands (the editor searched for domains that I've listed that are still available under the Dutch top level domain (nl)). And I've done a small talk about them in Basel.

PN: Your work is organized chronologically on your website. How does 'versions' relate, or provide new interpretive directions to your earlier work?

OL: Versions alters the perception and the content of other works. This possibly happens with all new works added to the cloud of existing works, part of a larger cloud of related works by other authors. It sounds a bit new age, but its probably true.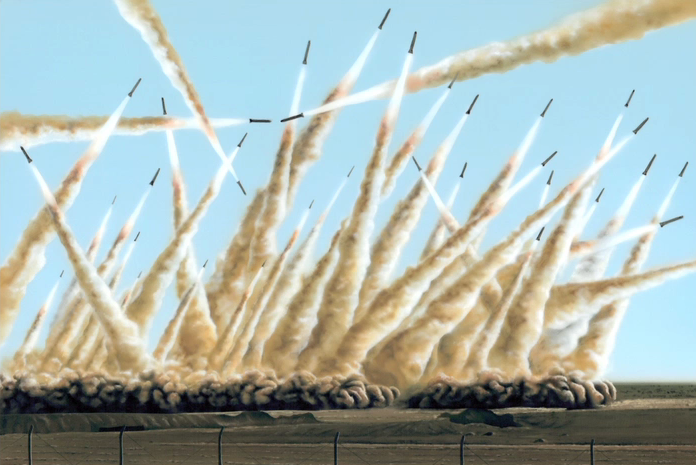 Screenshot from Versions / Oliver Laric
PN: Both the audio and much of the video in versions is stitched together re-combinations of many, many text excerpts, recognizably Nietszche, Sontag, Borges. What process led you to amass, collect and string this together so precisely?

OL: During the last year I was always reading with a pen, taking down parts that were relevant. What I ended up using is a fraction of the collected text fragments. It was similar with the video material; the parts I used were assembled during a year of research and consumption but only fragments ended up the published selection. But maybe there will be a b-side.

PN: The cathedral you mention in the newest versions video (2010) seems of particular interest to your understanding of iconography and iconoclasm. How did you arrive at icons as a subject?

OL: I'm primarily interested in the modification of icons, or their potential to adapt. There is a hollywood quality to the catharsis of an icon. My favorite sculpture is a justice in basel that used to be a virgin with child. Jesus was simply replaced with a scale during reformation iconoclasm and all the spiritual connotations were substituted by a more pragmatic ideology. It's an ideal story for a feature film and sequel. I stole this part from Susan Sontag. She wrote about perception through mediated experiences and I had to use it.



Screenshot from Versions / Oliver Laric
PN: And, in versions (2010), which are the three movies that all use the same room?

OL: The fragments you mention are from numerous movies all depicting the case study house by Pierre Koenig in Los Angeles. It's possibly the most iconic of the series. Others were designed by Richard Neutra and Charles and Ray Eames for example. Julius Shulmans portrait of Pierre Koenigs house is partly responsible for the popular perception of the building. As with Sontag's experience of the cathedral, the mediated experience is as authentic as the guided tour for 25 dollars. You can also rent the place for weddings. I stole this information from the brilliant documentary Los Angeles Plays Itself.

PN: How do you 'use' stealing?

OL: Stealing creates a feeling of liberty because everything belongs to you while simultaneously causing stress as you have to constantly make restrictions what not to use.

PN: Is there further direction to your current work?

OL: I'm trying to ignore some of the directions. I don't know how many are manageable simultaneously.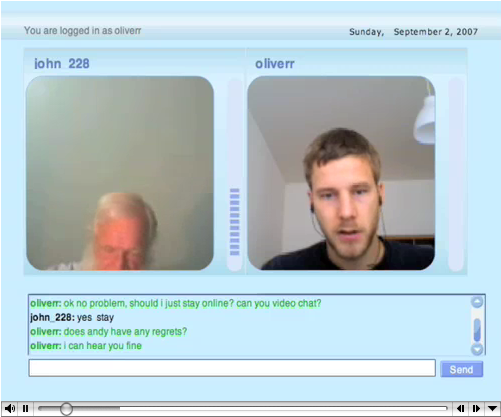 Screenshot from Webchat with Andy / Oliver Laric
---
ABOUT THE AUTHOR
Peter Nowogrodzki lives in Brooklyn, watches birds, and works as a carpenter. He is a collaborating editor for INCITE and the online publication Triple Canopy. www.ppeternnowogrodzki.com
---
INCITE Journal of Experimental Media
Back and Forth