While nothing I will write here is especially original [1] what follows are 3,895 characters that can be neatly summarized by the title of this essay: CINEMA IS NOT THE WORLD. Such a phrasing is obvious (of course), but this declaration is one worth returning to for, in spite of its irrefutability, it is a notion that we easily and quite willfully forget.

In his essay, "An Aesthetic of Astonishment: Early Film and the (in)Credulous Spectator" the film historian Tom Gunning somewhat sadly debunks the myth of the first screening of the Lumières' L' Arrivée d'un train à La Ciotat–a myth that has the Parisian Early Cinema Audience of 1895 screaming and hollering and fleeing the theater in fright as the film-locomotive approached their non-film-selves, as they mistook the black and white two-dimensional train for an actual machine (all metal and racket and daylight glimmer). Gunning asks, among other things, how such an event could have transpired–how audiences who had a good half-century's acquaintance with images via Magic Lanterns and Photographs and the like, could have confused the silent, hand-cranked, grainy, flat, and monochromatic Image for the Object it referred to. To have this myth dismantled is to breathe a heavy sigh, because we still want to believe–we want to exist in a world in which the representation of the thing is also the thing, in which the opportunity to understand the Everyday as it is (and as we are in it) is multiplied through the act of recording-and-presenting, eternally.

And so: Cinema is a lesser god, an impoverished approximation, a minor moon in the shadow of the Earth it orbits. At least, it constitutes this awkward set of metaphors as long is it is asked to be anything short of what it is. When viewed as a 16mm square-ish image with mono optical sound, a 35mm film rectangular frame with immersive Dolby audio, or a 3-D IMAX cartoon whose spatial illusions are beholden to and ruptured by arbitrary frame lines, Cinema (like Painting, Sculpture, and Aerobics) is at its best when the false idols of Expectation are washed away. What remains is the possibility of transformation via the delivery of a new experience, and embedded within this, the promise of the sublime. When Cinema is freed from the burden of representation and documentation, when it is properly lensed and hailed as a constellation of textures, surfaces, movements, and soundwaves that both refer to the world but also constitute a world unto themselves, this is when true revelation (however monumentous or miniscule) is made manifest. Mistaking the time-image for our lived experience means not only limiting our lived experience of the time-image but, indeed, of life itself.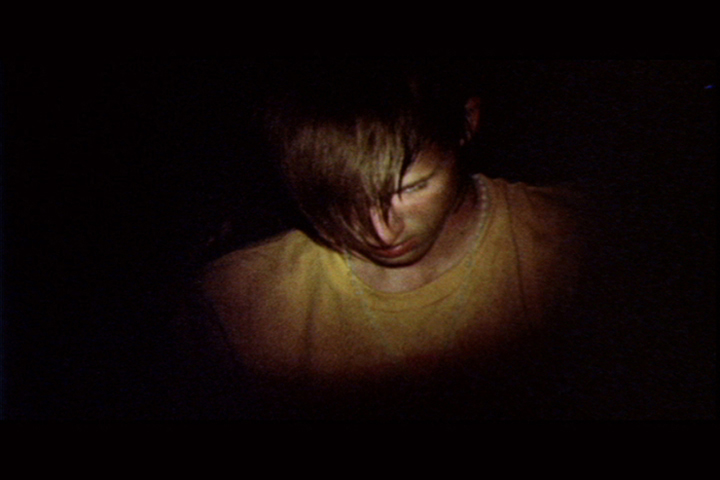 Black and White Trypps Number Three / Ben Russell


By way of illustration, I point you towards BLACK AND WHITE TRYPPS NUMBER THREE, a 12:00 35mm film of an audience shot at a performance by the noise band Lightning Bolt, a film that initially approximates the event by way of din and reflected sweat and the passage of real-time but is, by the end, decidedly not the event depicted. It is Something Else, entirely.

A recap: Sound before image. Flashes of light. A single beam illuminates a man in a mask who claps a slate. A declaration that a movie is being made, that "if you don't want to be in it, you should turn around or duck." Drums and bass guitar. "This is for MTV-15. Just kidding." The audience (you) watches the audience (them) who watches the band. Bodies and movement. Briefly–a man with blood on his forehead. A look of concern, unrelated. Applause.

At some point after that last word ("Applause"), there is a shift, a recession in the spectatorial position (yours, theirs) and a dawning confusion as to where the subject is and which experience is in fact taking place.[2] This is simple sleight of hand, a trick accomplished via the manipulation of time and tone and expectation. What begins as a record ends as a sensation–Cinema becomes your physical self, your sweating palms and painfully dilated pupils. The record has been doubled into experience and the document has been denied, for this is a film that aspires to be much greater than the sum of its parts. It does not want to be just light and sound and celluloid, it wants to be you.

As Gunning points out, it is the sensation(al) that threw the Lumière moviegoers out of their seats and into the aisles. Their yell of fright was in fact one of awe and bewilderment, brought about not through the misrecognition of Cinema As The World, but rather via the shock of Cinema As Their World.
* This text was first published in Affirmar La Realidad (Mexico City: Simposio Injerto/Ambulante, 2009). Reprinted with permission of the author.

NOTES
1. Such as this sentence, one I first heard in a lecture by artist/theorist Gregg Bordowitz.
2. Of course, this recession is contingent on the scale and quality of the projected image, on the volume and location of the amplified sound. In this case, bigger = better.
---
ABOUT THE AUTHOR
Ben Russell is an itinerant media artist and curator whose films and performances have been presented in spaces ranging from 14th Century Belgian monasteries to 17th Century East India Trading Co. buildings, police station basements to outdoor punk squats, Japanese cinematheques to Parisian storefronts, and solo screenings at the Rotterdam Film Festival and the Museum of Modern Art. A 2008 Guggenheim award recipient, Ben began the Magic Lantern screening series in Providence, Rhode Island, is co-director of the artist-run space BEN RUSSELL in Chicago, and he currently teaches at the University of Illinois at Chicago.
---
INCITE Journal of Experimental Media
Counter-Archive