Brooklyn Babylon Cinema ran monthly for over two years at Dumba, a queer collective art space near the Brooklyn Navy Yard. The BBC (yes, it was an accident!) was run without a budget. We paid guests off at the door in true do-it-yourself (DIY) fashion. We really wanted to fill voids that other cinemas AND micro-cinemas were missing: queer, young, political, short. For example, The Robert Beck Memorial Cinema on the Lower East Side of Manhattan has presented a weekly screening in a storefront performance space for five years now. Although it has shown an incredible number of innovative and resolutely independent makers over the years, it has largely seemed hesitant to program queer work.

After successfully – and barely – pulling off a 12-hour queer film screening at Dumba with a lot of help, we soon decided we wanted a more regular venue for the films we liked and to bring in guests to screen and curate; and we weren't afraid to show any formats. Like most small collectives we were always scraping by and doing numerous projects at once, so publicity would sometimes be last minute. We always provided food and beverages for a donation, and always encouraged folks to stick around and chat, which would sometimes lead to re-screening films late into the night. We were influenced by the London Exploding Cinema collective, who have been running a DIY microcinema for over ten years, with "no stars no funding no taste" as their rally cry. Central to their manifesto is that articulate, vibrant, political cinema exists WHOLLY outside the mainstream film production environment and should continue to do so. But as in most cities, there is a dearth of venues showing low budget, small gauge, independent, radical, underground film so they started one themselves and have spawned countless similar ventures. Their site is worth a visit and includes plenty of information about how to start your own micro-cinema.[1]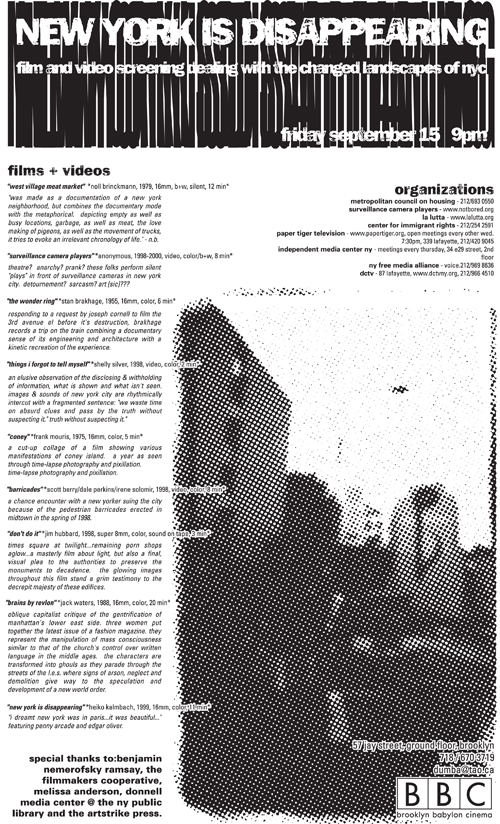 This text was first published as part of a longer article in Millennium Film Journal 41 (Fall 2003). See Scott Berry, "Size Matter: Microcinemas and Alternative Exhibition Spaces," http://mfj-online.org/journalPages/MFJ41/berrypage.html

---
ABOUT THE AUTHOR
Born in Detroit and currently living in Toronto, Scott Berry has been involved in artist-organized collectives and organizations for 15+ years. He is an arts administrator at the Images Festival by day and a reference library lover by night. An intermittent filmmaker and programmer, has has shown most recently at the 2008 Berlin and Rotterdam Film Festivals. Berry is currently on the Boards of the Canadian Filmmakers Distribution Centre, the 8 Fest Small Gauge Film Festival, and the Rendezvous with Madness Film Festival. He co-founded Dumba and Brooklyn Babylon Cinema in 1996 while living in Brooklyn.
---
INCITE Journal of Experimental Media
Manifest